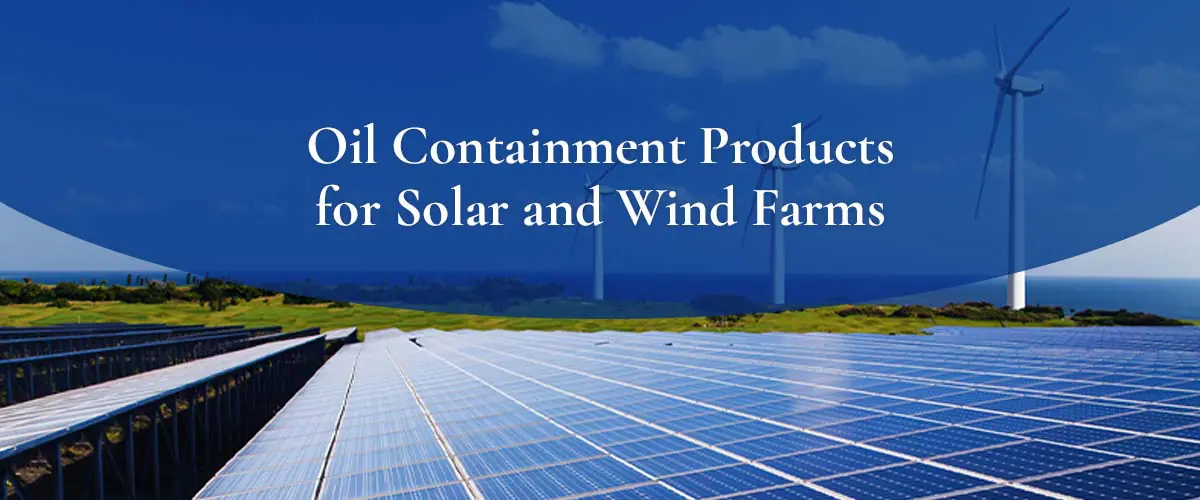 As some of the cleanest natural resources on the planet, solar energy and wind power offer significant benefits, from reducing air pollution to decreasing operational costs. Unlike power sources such as coal and natural gas, solar and wind power emit little or no carbon dioxide, one of the most prevalent and harmful greenhouse gases. Despite these advantages, solar and wind farms require transformers using large amounts of oil to operate, posing a possible risk without the correct protective measures.
Why Solar and Wind Farms Need Secondary Oil Spill Containment
Transformers contain oil, even for solar and wind energy applications. Solar farms use various transformer types during energy conversion, including station, substation, distribution, grounding and pad-mounted transformers. Besides serving as a crucial insulator between the transformer's primary and secondary electrical circuits, oil works as a coolant to dissipate heat during operation.
Wind turbine applications use oil in transformers, hydraulic systems, circuit breakers and gearboxes for the same reasons. Although wind and solar energy are among the cleanest and most sustainable solutions, they are still somewhat vulnerable to transformer malfunctions and potential oil spills. Like other types of power generation, solar and wind farms must follow guidelines outlined by the Environmental Protection Agency (EPA) and the Spill Prevention, Control and Countermeasure (SPCC) rule.
The primary purpose of the SPCC rule is to prevent an oil spill from reaching the navigable waters of the United States.
Utilizing an SPCC Plan
A solar or wind farm storing over 1,320 gallons of oil must prepare and maintain an SPCC plan to avoid fines and penalties from the EPA. These plans typically contain secondary spill containment solutions to capture leaks and spills during a transformer failure.
One of the most practical spill response solutions is installing a secondary containment system with an impervious barrier capable of containing the oil volume held by the largest vessel. This oil containment solution also needs to accommodate a reasonable amount of precipitation during rainfall. These systems allow rain to drain passively through a barrier but are impervious to oil, preventing hydrocarbons from migrating outside the spill containment area.
Using Cargill® and Midel® Oils to Cool Transformers
Cargill® and Midel® vegetable oils are among the most preferred solutions for power transformer insulation because of their superior cooling capacity, cost-efficiency and optimal pouring point in a diverse temperature range. These fluids are exceptionally moisture tolerant and can extend a transformer's insulation life. They also allow farms to operate transformers at higher temperatures and produce more power without upgrading to a larger unit.
How SPI Petro-Pipes Stop Vegetable and Ester Oils
Soy-designated oil containment products from Solidification Products International, Inc. (SPI) can stop spills and leaks from transformers, specifically those cooled by Midel's 7131 oils, Cargill's oils and FR3 oils, and Mobil's synthetic lube oils. Our PIT-416 and PIT-416-UV Petro-Pipe models are among our front-running systems for stopping these spills, with the PIT-46-UV offering the added capability of withstanding ultra-high desert temperatures. Both models allow rainwater to drain through while filtering fuel and vegetable oil sheens to nondetectable levels.
During a major spill, the Petro-Pipe shuts down entirely and backs the oil into the containment area. SPI constructs each Petro-Barrier System for each client's needs, accounting for crucial factors like rainfall amounts, land-slope angles, drain percolation rates and containment area sizes.
Contact Solidification Products International Inc. Today
SPI offers the industry's most innovative and cost-effective oil spill containment solutions for a comprehensive application range, including solar and wind farms. Discover why many operations globally prefer SPI products to meet their needs and stay in compliance with environmental regulations. Call (203) 484-9494 or contact us online today for more information.