Although gas and oil are essential for operations and transportation, these materials can have disastrous impacts on the environment and create health risks for people and animals.
At Solidification Products International, Inc., we understand the importance of containment because we've been providing industries with comprehensive solutions for more than 30 years. Our innovative design and technology empower businesses to contain oil, save money and protect the environment.
Why the Transportation Industry Needs Oil Containment
Containment keeps material in place — secondary containment prevents oil spills and leaks from containers. Transportation industries need secondary containment to protect the surrounding environment, people and wildlife. Proper containment ensures work safety, saves product and money, and ensures your business meets environmental regulations. Transportation industries needing oil containment include:
Trucking terminals: These facilities serve as a transfer point to consolidate pallets or loads or a deconsolidation operation to reduce truckloads and sort individual orders. Oil containment is essential for this industry to keep workers safe during loading and unloading processes.
Mobile refuelers: These containers store and transport fuel for transfer from or into motor vehicles, aircraft, other storage containers and more. Mobile refuelers appear at construction sites, mining sites, airports or seaport terminals. A proper containment system keeps the fuel inside the container safely, preventing spills and allowing businesses to save product and money through safe transport.
Airlines: Oil containment for the airline industry is essential. There are many regulations offering preventive measures and guidance to avoid aviation oil spills, but they still occur. Aircraft fuel containment ensures proper handling, storage and dispensing of fuel at airports.
SPCC Compliance for Secondary Containment for Transportation
Spill Prevention, Control and Countermeasure (SPCC) plans help industries prevent oil discharges and spills from affecting water and shorelines. To be SPCC compliant, create an oil spill prevention plan to minimize these instances and identify the actions to take if a spill occurs. Choosing a containment solution from SPI will ensure you have everything you need to be SPCC compliant.
How SPI Can Help the Transportation Industry
At SPI, you can find innovative and comprehensive containment solutions. We use advanced technology to create unique containment options for various industries, including transportation. With us, you'll find products to prevent oil spills and minimize damages, such as:
Petro-Barrier™: Place Petro-Barriers at the end of your containment to become optimal drainage sumps. This system features elements to filter rainwater through multiple media types while discharging water and removing sheen.
Petro-Pipe®: Our Petro-Pipes enable rainwater to pass through while making a seal if encountering oil. You can find this system in many sizes to meet your unique needs.
Petro-Plug®: Gain flexibility with Petro-Plugs. These products protect small floor drains and allow up to five quarts per minute of water to drain in standard floor drains. If the inner media contacts oil, the entire system will seal, preventing anything from passing through.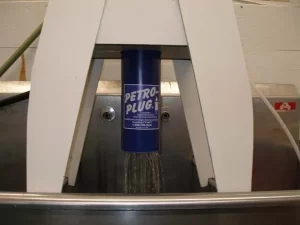 Find Comprehensive Containment Solutions From SPI
Our products utilize advanced technology to create efficient, cost-effective options for any transportation industry. Contact us for a quote or request more information.