SPI Pump-Thru Barriers Offer Versatile Applications
Solidification Products International Inc. is a leader in oil protection products for rainwater, and the Pump-Thru Barrier™ exemplifies our commitment to high-performance products. With the SPI Pump-Thru Barrier, facilities can keep rainwater clean in any containment area without installing systems during construction. Explore the full benefits of this system.
The blue cylindrical pre-filter, a sump pump with a heating ring and the new custom-made heating blanket, are all new additions to the Pump-Thru Barriers overall versatility. The pre-filter canister itself has dramatically improved the longevity of the internal dirt filters built into the units.
What Is an SPI Pump-Thru Barrier?
The SPI Pump-Thru Barrier is a portable containment unit for the rapid removal of rainwater in high volumes. The Pump-Thru Barrier uses a sump pump with SPI-patented media for efficient hydrocarbon removal. Rainwater is pumped in the Pump-Thru Barrier and passively drains as the media removes the oil sheen. In the event of an oil spill, the unit seals off completely to contain the spill.
Pump-Thru Barriers feature an internal filter that cleans rainwater before reaching the media. During a spill, oils are diverted to a return system that flows back to the containment area. Overflow directs back to the containment area until the sump pump is turned off. In rainstorms, the rainwater pumps into a portable Pump-Thru Barrier with dirt and oil sheen filters that prevent clogs. These filters can be quickly replaced.
In colder climates, Pump-Thru Barriers have thermal heating blankets to protect the unit housing and the external water filter. An additional sump pump pre-filter can also be used and cleaned as needed.
The Pump-Thru Barrier is best used in containment areas where you need assurance that no oil sheen will discharge.
Benefits of Pump-Thru Barrier
Facilities that choose the Pump-Thru Barrier can experience:
100% fuel and oil protection
24/7/365 operation
Oil sheen removal to less than 3 parts per million (ppm) or non-detectable levels
Rainwater drainage
Reduced manual pumping following spills
Fast and easy filter replacement
Applications and Maintenance of Pump-Thru Barrier
Pump-Thru Barriers are capable of removing many types of fuels, including:
Diesel
Transformer oil
Heating oil
Jet fuel
Kerosene
Gasoline
Crude oils
Hydraulic oil
Other hydrocarbons
The Pump-Thru Barrier is outfitted with an external water filter and support brace. This external filter removes dirt down to 35 microns before entering the internal filter. With our custom heating blankets, our Pump-Thru Barriers can perform in below-freezing temperatures. To maintain the Pump-Thru Barrier throughout use, perform the following steps:
Insert pump barrier canister.
Align canister holes with barrier holes and insert 12 ¼ hex bolt with gasket washer and tighten. Be careful not to overtighten.
Insert the sheen filter. Push down until it stops, and make sure the gasket ring is flipped up and not down.
Insert barrier dirt filter. Push filter down until it stops.
Insert the retaining ring to hold the dirt filter in place.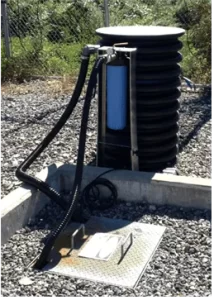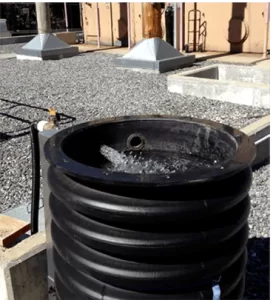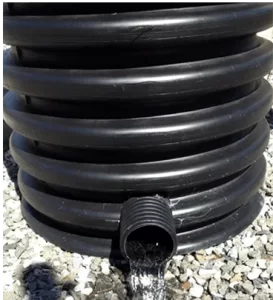 Pump-Thru-Barrier Oil and Water Separator
The SPI Pump-Thru-Barrier is outfitted onsite with an external water filter and support brace. The external filter removes dirt down to 35 micros and allows the system to capture the fine dirt prior to getting into the internal dirt filters.
The sump pump is turned on and the flow is adjusted with a max flow rate on the 24" unit of 35 gpm.
Cold Weather Operation of the Pump-Thru-Barrier
Our custom heating blankets have been tested for temperatures below -40 degrees in extreme conditions.
The following test was conducted at the SPI facility with temperatures of -12 F and not rising above 32 F for eight straight days.
The blankets were installed on the Pump-Thru-Barrier housing and external water filter in December 2013 and removed April 1, 2014. Installed in the water vessel is a water heater that kept the water free of ice throughout the time period. The internal temperature inside the Pump-Thru Unit was a warm 68 degrees.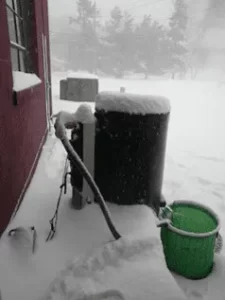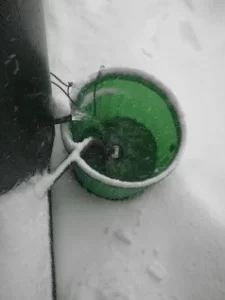 Drawings
See a detailed image of the Pump-Thru Barrier setup.
Pump-Thru Barrier Drawing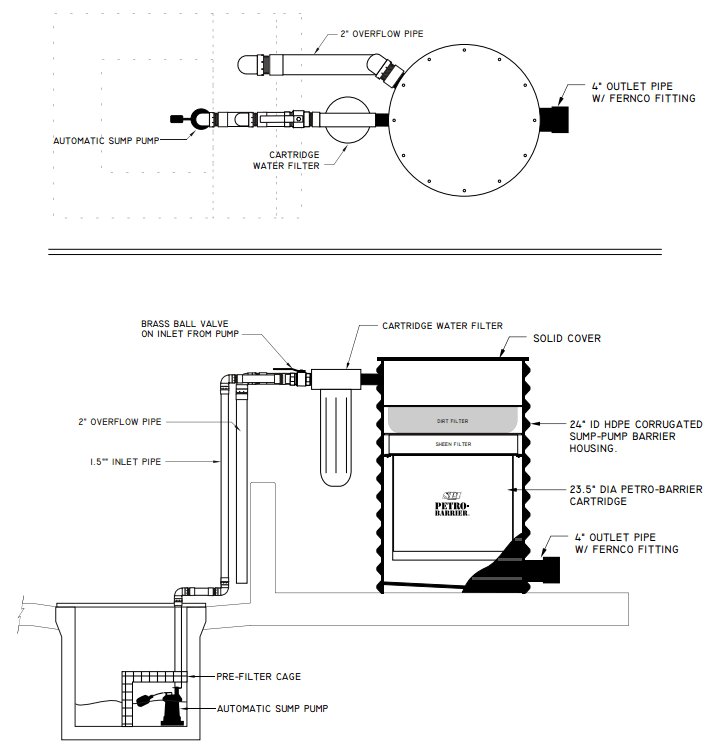 Dual Installation – Pump-Thru Barrier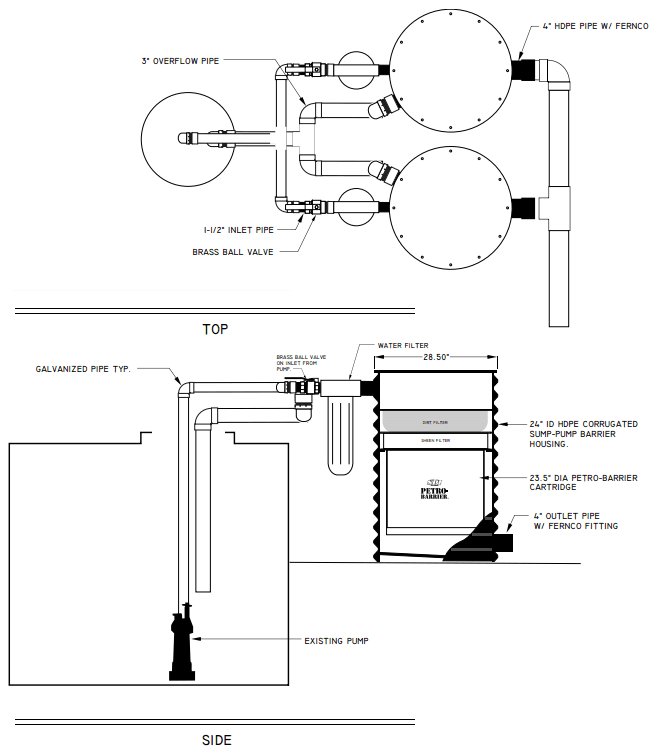 Trust SPI for Oil Containment Barriers
SPI specializes in a range of oil containment systems that offer impressive oil separation and removal of rainwater. With the ability to reduce manual pumping during oil spills, operations can improve oil containment efficiency and prevent costly fines for water contamination. Get in touch with us today to learn more about the Pump-Thru Barrier.
CONTACT US
Get In Touch With Us