Solidification Products International Inc. offers the Petro-Plug® for any facility that needs a disposable oil barrier for their drain pipes. With its purpose-built design, Petro-Plug provides superior performance with added cost-savings for facilities.
What Is an SPI Petro-Plug?
Petro-Plugs are disposable oil barriers designed to fit pipe floor drains with standard specifications. When the Petro-Plug is installed, it allows water to flow through while removing low levels of diesel, gasoline and other oils.
Use Petro-Plugs on 3-inch or 4-inch drain pipes. You can install Petro-Plugs in vertical pipes, and the oil barriers will support a flow rate of 1 to 3 gallons per minute. On standard-sized floor drains, water drains at a rate of 5 quarts per minute. If an oil spill occurs, the Petro-Plug will seal completely and prevent any discharge from entering sewer lines, sump pumps and other areas.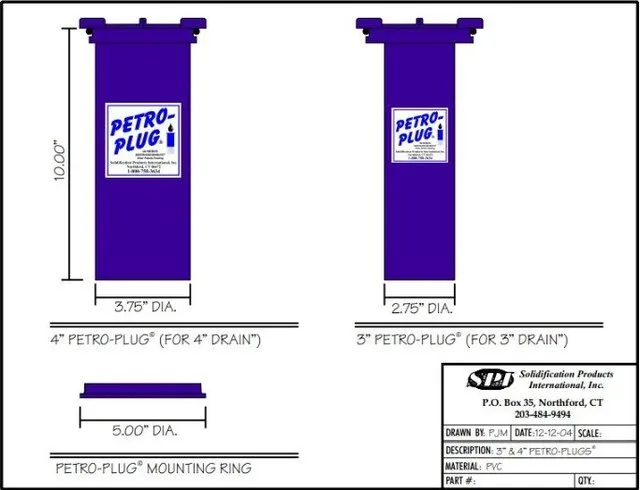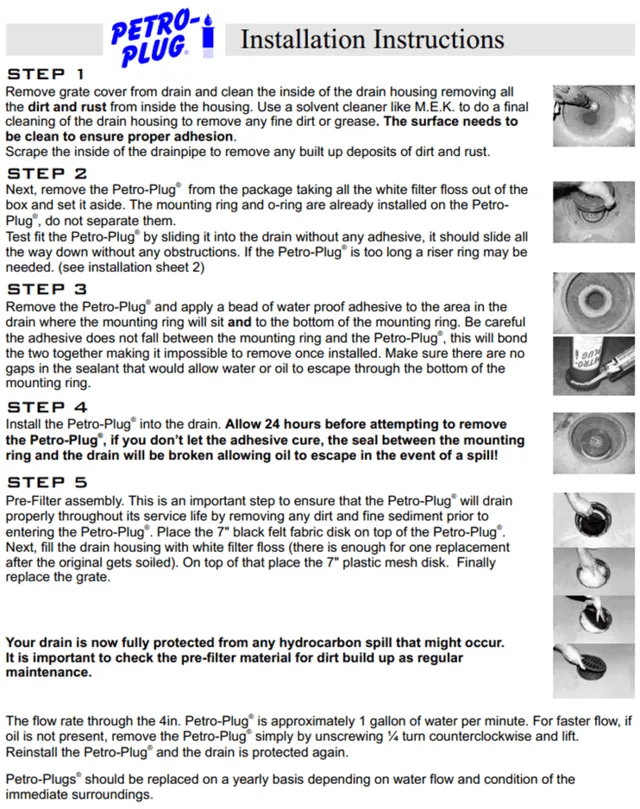 Benefits of SPI Petro-Plugs
SPI Petro-Plugs are an oil spill containment solution that is:
Easy to install: Petro-Plugs use a slide-in design that allows the barrier to fit right into the designated pipe size.
Watertight: A twist-and-lock design ensures a watertight seal without any specialty sealants. The system completely seals oil and drains rainwater.
Simple to remove: Quickly remove the Petro-Plug without tools in an emergency with its unique mounting flange design. Only the bottom ring is permanently mounted to the outer diameter of the drain with construction adhesive. The top mounting flange attaches with a proprietary twist-and-lock system.
Cost-effective: The complete sealing capabilities of the Petro-Plug allow teams to clean up an oil spill at the source and save on cleanup costs and fines.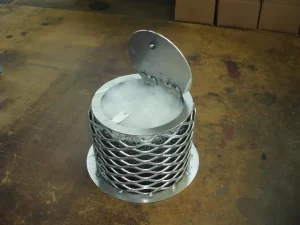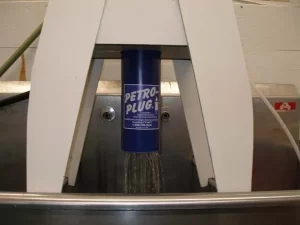 The picture above shows the different sized 3" and 4" Petro-Plugs with lengths of 6, 8 and 10 inches. The picture to the right illustrates the flow rate through a 4" Petro-Plug with 4" of head pressure at about 5 quarts per minute.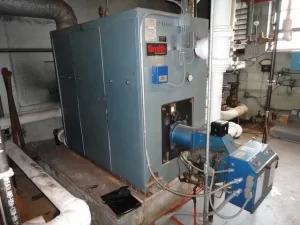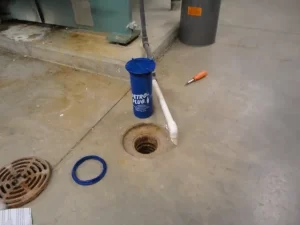 Potential oil spills in floor drains have been a great concern for schools, hospitals and many buildings throughout the Northeastern United States, where fuel oil is used as the primary heating source.
Petro-Plugs are made to fit both 3" and 4″ floor drains, allowing the water from the boiler to drain, while preventing any oil from escaping in the event of a spill. These pictures show the ease of installation of a typical Petro-Plug.
Applications for Petro-Plugs
Petro-Plug is designed for indoor applications with low flow-rate water. This oil spill containment system is ideal for water management in:
Warehouses
Storage spaces
Garages
Boiler rooms
Schools
Hospitals
Petro-Plugs can have outdoor applications for small containment areas under 200 square feet. In these cases, a top hot filter is needed to clean the rainwater and trap dirt and debris.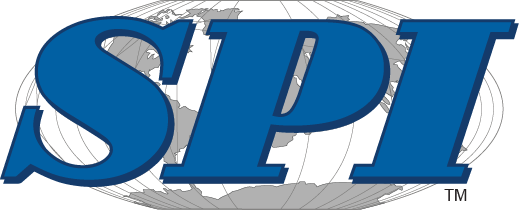 Choose SPI for Oil Containment Products
At SPI, our Petro-Plugs provide the drain protection you need to prevent oil spills from contaminating water. Contact us today to get a quote.
Contact Us
CONTACT US
Get a Free Quote Today