SPI Oil Bond Makes Oil Spill Solidification Clean Up Simple
A solidification particulate that is listed on the EPA's National Contingency Plan (NCP) Schedule, Oil Bond by Solidification Products International is applied directly to oil on water or solid surfaces.
Oil in water is absorbed into Oil Bond and rapidly turns into a solid cohesive material that is removable from water.
Oil Bond is available in 10-pound pails and 40-pound bags.

Oil Bond is applied to the oil and immediately absorbs the oil while turning darker in color. After a few minutes, the cup can be inverted and the solidified oil and water are retained. No liquid escapes.

The solidified oil is removed in one piece, leaving uncontaminated water.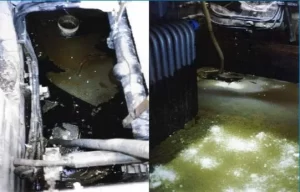 In a utility vault, Oil Bond is used to absorb transformer oil off the surface of the water. The solidified oil was removed from the water surface the next day in one solid sheet.
The oil will also solidify within one hour if quicker removal time is required but will be removed in smaller solid pieces. There may still be an oil sheen but that can be removed with other SPI products.
Oil Bond Spill Kits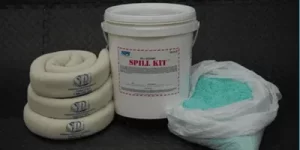 Custom-sized SPI Oil Bond spill kits are available in different sizes. The spill kit pictured below comes in a 5-gallon pail and contains three SPI Oil Bond booms and five pounds of Oil Bond, which is displayed next to the pail.
Oil Bond Booms Absorb and Solidify Oil on Land or Water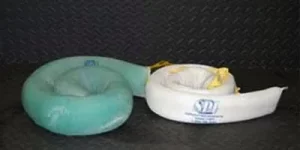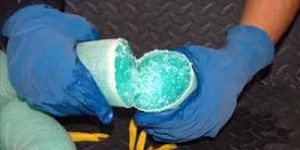 Oil Bond booms are both absorbent and solidifying. In this picture, the boom on the left is fully absorbed with more than five times its weight in oil; the boom on the right is unused.
Oil Bond booms are available in different lengths, including 4′ x 2.5″ diameter (pictured), 10″ x 2.5″, 6″ x 5″, 10″ x 5″ and 20″ x 5″. Custom sizes are also available.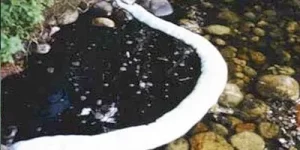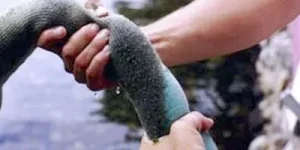 A 5″ x 10″ Oil Bond boom is used to absorb oil spilled on a water surface.
Oil Bond Pillows Absorb and Solidify Oils and Fuels
The SPI Oil Bond pillow on the left is fully absorbed with oil; the Oil Bond pillow on the right is unused.
The Oil Bond pillows are cut open, showing the used pillow fully absorbed with oil at up to five times its unused weight. Unused media can be seen in the unused pillow.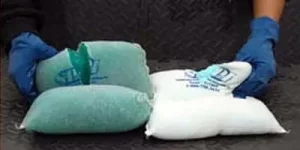 Oil Bond pillows are used in this application to absorb and contain any leaking oil from escaping during rainstorms.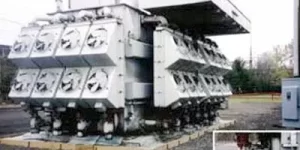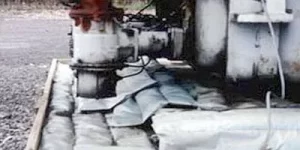 CONTACT US
Get a Free Quote Today