How SPI's Petro-Barrier Products Control Oil Spills
Solidification Products International (SPI) Petro-Barrier™, Petro-Pipe®, and Petro-Plug® products use patented filtering technology that allows water to drain while providing a total oil spill containment system.
Water enters through the top of the products and filters down through three different layers of filtration media. The filtration media removes oil sheens to non-detectable levels. View a demonstration video HERE.
SPI Provides Total Oil Spill Containment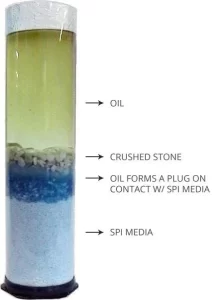 In the event of an oil spill, the oil/water filter forms a plug and becomes an oil spill containment system, preventing oil from being released into the environment and allowing cleanup at the spill site.
No other technology offers the reliability of water drainage and proven oil spill protection 24/7/365 without sensors, oil/water separators, pumps, or valves.
SPI oil containment products and systems have been successful in thousands of applications since 1999.
This technology can be used in the design of new oil containment projects or easily retrofitted for oil tanks or transformers to comply with the Environmental Protection Agency's Spill Prevention, Control, and Countermeasures (SPCC) regulations.
The SPI Petro-Barrier, Petro-Pipe, and Petro-Plug are all acceptable methods to provide oil containment required under SPCC regulations.
SPI Patented Petro-Barrier™
The SPI Petro-Barrier design is ideal for extensive volumes of water in containments offering vertical installation and increased drainage. SPI builds each system according to your needs, considering critical factors like under-drain percolation rates, land slope, containment area size, rainfall amount and more. Large areas in wet climates could require upward of six sumps for extensive drainage, while smaller spaces receiving less rainfall may only need a few.
The Petro-Barriers are placed at the lower end of the containment and serve as the optimal drainage sumps. All of the system's elements are designed to filter the rainwater through three different media types while removing the sheen and discharging the water.  In the event of an oil release, the system seals the containment completely.
These Petro-Barriers come standard with 24-inch depths, although custom sizing is available. For each barrier, average stormwater rates range from 18 gallons per minute (GPM) with the 12-inch diameter system to over 100 GPM with the 72-inch Petro-Barrier.
SPI Patented Petro-Pipe®
SPI Petro-Pipes work well in areas with high water tables and substandard drainage fields. These pipes allow rainwater to pass through while creating a seal when encountering oil from a spill. We offer this oil containment system in various sizes to meet your specific needs, including a 6-inch diameter model that delivers a water drainage flow rate of 4 GPM when installed at a 25-degree angle.
The Petro-Pipe's durable construction allows for installation in concrete or earthen berms. The inserts fit into a precast flanged outer sleeve and are easily replaceable as needed. An internal gasket and stainless steel bolts ensure the integrity of the flanged joint seal.
SPI Patented Petro-Plug®
SPI Petro-Plug designs offer the flexibility to protect small floor drains from hydrocarbon encroachment in locations like warehouses, garages, boiler rooms and underground vaults. These oil spill containment systems allow water to drain up to 6 quarts per minute in standard-size floor drains. The system seals when oil contacts the inner media, plugging the drain and allowing nothing to pass through.
We offer these plugs with 3-inch and 4-inch diameters to fit most floor drains. Our patented twist and lock system requires no sealant and slips easily into most pipe drains. In an emergency, these pipes allow easy removal without needing tools.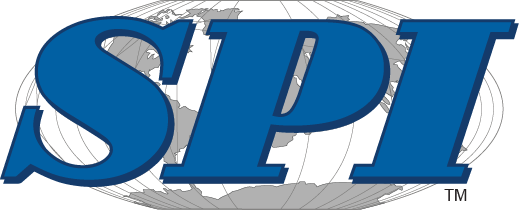 Contact Us Today
Solidification Products International, Inc. supplies the most technologically advanced and cost-effective solutions for oil spill containment across a broad application range. Learn why many businesses worldwide choose SPI oil containment products to meet their needs while staying in compliance with environmental regulations.
Our experts will work with you and provide a free consultation to recommend an ideal solution for your requirements. Connect with us online or call 203-484-9494 today to get started.
Contact Us