Get Oil Containment Through SPI Petro-Pipes
There are many ways Solidification Products International Petro-Pipes can be used in oil containment areas to drain rainwater. The uniqueness of the SPI Petro-Pipe is that they work passively 24/7/365 keeping containment areas free of water and protected from any oil spills.
Petro-Pipes come in different sizes and can either be cast in concrete, attached to liners, or even used in bermed areas. They also come with male or female fittings and can be used with or without ball valves.
The following drawings will show just a few ideas on how these products can be used to save time and money on maintenance and the disposal of oily water.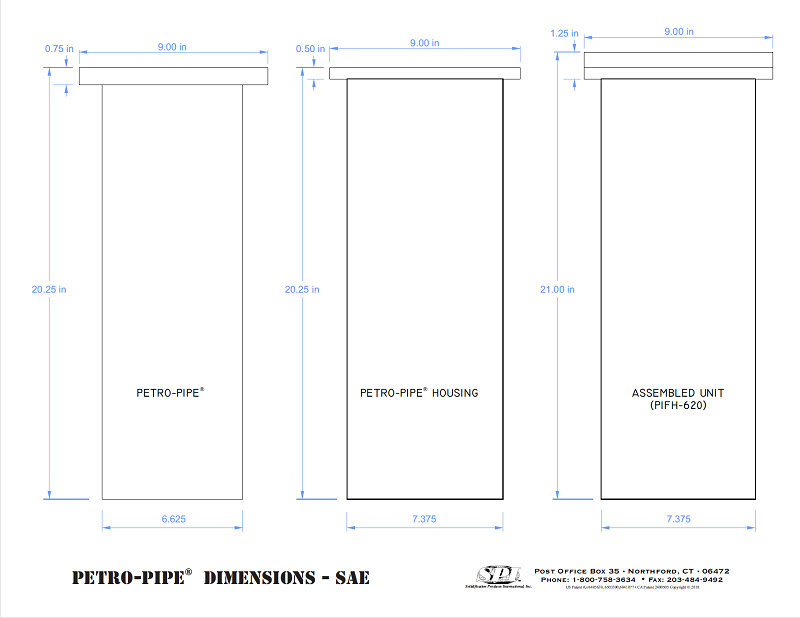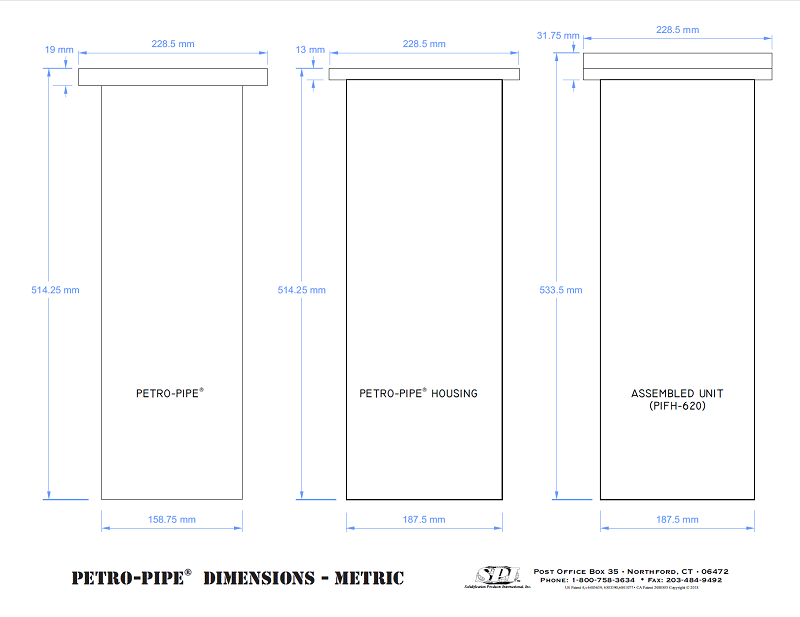 The above drawing is SPI's PIFH-620 Petro-Pipe with a 7" ID flanged housing that can be cast into concrete, attached through a liner or other type of containment berm.
The Petro-Pipe insert has a 6" ID with a flange and slides into the housing pipe attached with 5 stainless steel screws. There is an O-ring on the underside of the 6" Petro-Pipe that makes a water- and oil-tight seal when the screws are tightened.
PIFH-620 Petro-Pipe Rainwater Discharging Units
The PIFH-620 Petro-Pipe is used to discharge rainwater from oil containment areas. The 7" housing pipe is flanged and mounted through a liner or containment wall. The housing pipe functions best when installed at a 15- to 25-degree slope, allowing water to build up on the face of the Petro-Pipe, providing a positive head pressure for optimum flow of 3.5 to 4 gpm.
The Petro-Pipe is installed into the housing and is attached with 5 stainless steel screws. There is an O-ring between the flanges that compresses when the screws are tightened, creating a water- and oil-tight seal.
In a liner application, there is an additional flange attached to the liner prior to the installation of the housing pipe. This flange provides a complete seal between the liner and the Petro-Pipe itself.
Petro-Pipes have a retaining ring on the inside that is removable and its dirt filters are accessible. The dirt filters keep the Petro-Pipe free of debris and require periodic maintenance, usually about once per year. Petro-Pipes allow for point-source discharge, so they can be changed out and the filters can be replaced if needed.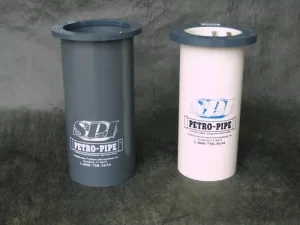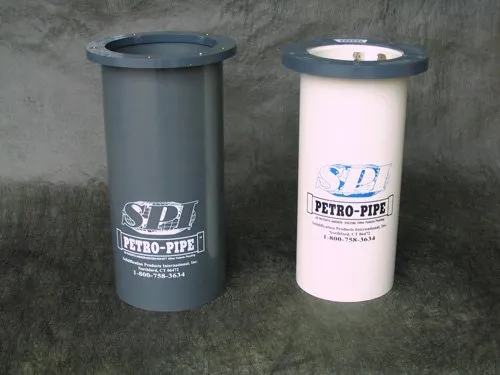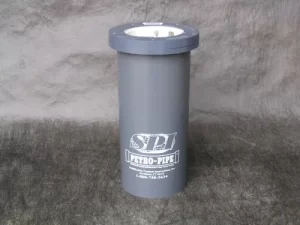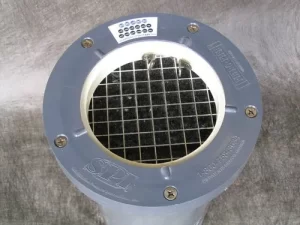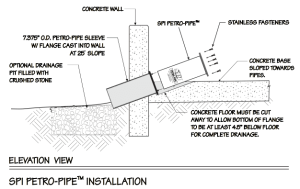 The PIFH-620 Petro-Pipe should be installed on a 25-degree slope for optimum performance. The concrete must be cut out at an angle, which allows all the rainwater to drain out of the containment area floor into the Petro-Pipe, simultaneously providing head pressure for better drainage.
The Petro-Pipe can also be installed in trench drains that collect rainwater that is directed in such a way as to provide positive head pressure to the Petro-Pipe. Since the Petro-Pipes drain passively, head pressure increases their flow rate to a maximum of 3.5 to 4 gpm.
Petro-Pipes for Use With Discharge Pipes or Ball Valves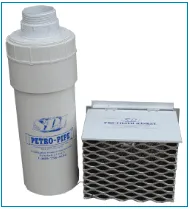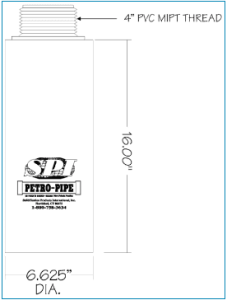 The Petro-Pipe on the left is a PI-620-M4, 6" X 20" with a 4" male fitting. Our PI-620 Petro-Pipes are available with 2", 3" 4" or 6" male or female connections and are used on the outside of oil containment areas.
They are attached to pipes coming directly from the containment area or attached to ball valves. The Petro-Pipe should always be installed on a 15- to 25-degree slope for best drainage.
Petro-Pipe Used for Drainage with Ball Valves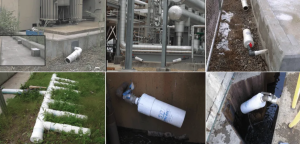 The PI-620 Petro-Pipe comes with fittings from 2" to 6" (male or female) that are attached to piping or ball valves. The Petro-Pipes have an internal dirt filter and also use a filter basket inside the containment area to block dirt and debris.
Petro-Pipes are used with ball valves to allow rainwater to passively discharge 24/7, removing oil sheen but providing 100% oil containment in an oil spill.
4" Petro-Pipes Used for Oil Containment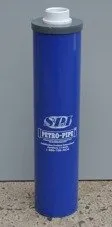 The PIT-416 Petro-Pipe is used in smaller applications with a flow rate of about 2.5 gpm and comes with a 1.5", 2" or 3" male fitting.
These smaller Petro-Pipes do not have an internal dirt filter, so they come with the PCF-44, pre-filter canister. They also require a pre-filter basket on the inside of the oil containment area.
4" x 16" Petro-Pipe Used in Containment Area
In the above photo, the PIT-416 Petro-Pipe is used to contain spills from a diesel generator. The Petro-Pipe utilizes a pre-filter basket on the inside of the containment area to capture the majority of the dirt and debris.
On the outside, the ball valve is left in the open position to drain water 24/7/365.
The pre-filter canister is a secondary dirt filter that is attached right in front of the Petro-Pipe to capture fine dirt and sediment that might make it through the pre-filter basket.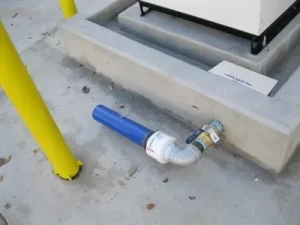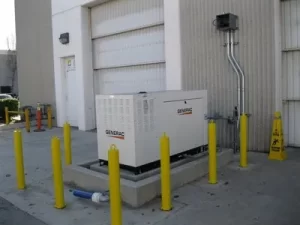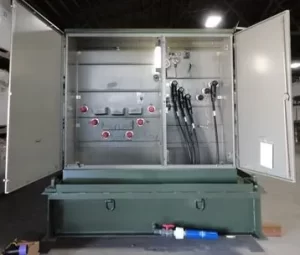 How Do Petro-Pipes Work?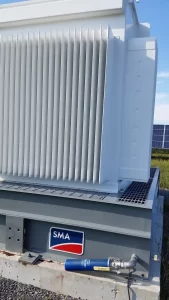 When a high water table, poor-draining soil, or other factors make vertical drainage into the ground difficult or impossible, the discharge of water from a containment area can still be accomplished horizontally using a Petro-Pipe. In these cases, a berm, curb, or wall can be installed to hold back rainwater that might also contain oil. Installing several Petro-Pipes through concrete, asphalt, or earth will trap all the oil while simultaneously allowing uncontaminated water to pass.
Since water drainage occurs best vertically due to gravity, a Petro-Pipe is not as efficient at moving water as a Petro-Barrier™. Therefore, more surface area is required when using Petro-Pipes than when using vertically draining barriers. A 25-degree minimum slope from inlet to discharge is recommended for flow rates of 2.5 to 3 gallons per minute.
Petro-Pipes Are Highly Customizable
Petro-Pipes are available in a variety of sizes according to drainage requirements. They are adaptable to ball valves, drains, through walls, and through a variety of piping systems.
Call your SPI sales representative with any questions.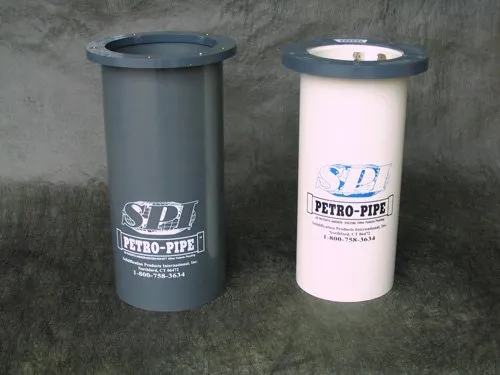 Petro-Pipes Are Easily Installed and Replaced
Petro-Pipes are easily replaced by swapping out a new Petro-Pipe insert from within a pre-cast flanged outer sleeve.
Stainless-steel bolts and a gasket ensure the integrity of the flanged joint seal.
Contact Us
CONTACT US
Get a Free Quote Today